Ice cream news: the machine for spaghetti, or spagetti, ice cream
This professional device is very helpful in increasing the sale of ice cream. It is fun and you get icecream in a shape of spaghetti. The children will like it so much, and not only the children. It is an accessory that gives something more to your ice cream shop, it is also elegant. You can serve this particular dessert in your restaurant or for the customer of your hotel. The machine is easy washable and the ice cream container are in stainless. The piston is easy to be removed for a proper clean.
Spaghetti gelato production
Instruction: the production of ice cream or gelato noodle it is not difficult. Of course you have to experience it. Insert two scoops of gelato in the stainless container and push the button. The machine will press the gelato that will come out in the shape of spaghetti or noodle. If the container it is not proper inserted the top light will be red and the machine will not start (safety device).
For your safety this spaghetti gelato maker use only 24 volt (adaptor provided)! The machine is all you can see here: 53cm high and 30 floor plate diameter. No compressor! Check here the manual how to make spaghetti ice cream with the spaghetti ice cream machine.
Spaghetti ice cream by Easy Best Brasil Comercio e Importacao LTDA (Brazil)
Rua Yashica, 455 Gleba 4.1 Jd. Bela Vista Sorocaba Sao PauloBrasil
Email:info@easybestdobrasil.com.br

Spaghetti ice cream by Easy Best
(Thailand)

Tel. 0839762355 (+66839762355) Mon-Fri 09:30-17:00
132/2 M.1 Soi Chiyaporn, Nongprue
Pattaya Banglamung Chonburi 20150
web site: www.easybesthailand.com
e-mail: info@easybesthailand.com
fax 038068143 (+6638068143)
Spaghetti ice cream by Trading Hospitality (South Africa)
Stella Rd. 2 7441 Montague Gardens
Cape Town South Africa
email: info@starcape.com
Tel. +27 (0)21 5550378
A new idea from South Africa branch for easy topping: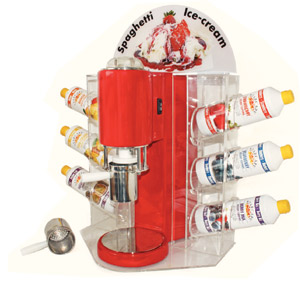 Spaghetti ice cream and toppings
If you want to give a better realistic touch to your spaghetti icecream, you can add some toppings: strawberry (red like tomato sauce) and some coconut powder (white like cheese). In this way you can improve your profit in selling ice cream: it will be the same cost as 2 ice cream scoop but with this presentation you can easily sell it for more, maybe also serving it at the table on a terrace.
Where to see the ice cream spaghetti machine?
You can see the spaghetti gelato machine and taste them in Thailand in many locations. If you are in Pattaya at Pan Pan Jomtien (Tappraya Road) or at Pan Pan in Central Festival Beach Road (floor 5) or in Bangkok at the breakfast buffet of Le Meridien Surawong Street.
Or you can see a short test video on Youtube.com: here or here (Chinese)
| | |
| --- | --- |
| First page in Google results "spaghetti ice cream Thailand": | The Gelapress Noodle/spaghetti icecream machine is ready to be sold and delivery everywhere in Thailand and also ship around the world. You can choose the color and also ask for personalization or personal logo. |
Shock freezer, blast freezer

The professional shock freezer blast freezer D5 is ventilated shock freezer with full electronic controller with 4 programs (modifiable) and also function as normal freezer. The deep temperature is -35C. The controller is made in Italy. We can offer to you at the price of only 150,000.00 baht INCLUDING vat 7%!

Technical details:

Gas r404a
220 volt
6.5 amps
Temp. +5 -35C
Weight 150kg
Size: 80x82x102h
Internal size: 66x40x40